Jack in the Box Food items
Size
Price

Jack in the Box Burgers & More

Combo Includes Small French Fries & Small Drink

Classic Buttery Jack
$4.79
Classic Buttery Jack – Combo
$6.99
Bacon & Swiss Buttery Jack
$5.09
Bacon & Swiss Buttery Jack – Combo
$7.29
Sourdough Jack
$4.69
Sourdough Jack – Combo
$6.89
Ultimate Cheeseburger
$4.69
Ultimate Cheeseburger – Combo
$6.89
Bacon Ultimate Cheeseburger
$5.09
Bacon Ultimate Cheeseburger – Combo
$7.29
Jumbo Jack Cheeseburger
$3.19
Jumbo Jack Cheeseburger – Combo
$5.99
Spicy Sriracha
$4.69
Spicy Sriracha – Combo
$6.89
Cheddar Onion Buttery Jack Burger (Limited Time)
$5.09
Cheddar Onion Buttery Jack Burger – Combo (Limited Time)
$7.29
Upgrade to Medium Combo
$0.59
Upgrade to Large Combo
$0.99
Sub Curly Fries
$0.40
Jack in the Box Chicken Menu
Combo Includes Small French Fries & Small Drink
| | | |
| --- | --- | --- |
| Homestyle Ranch Chicken Club | | $4.99 |
| Homestyle Ranch Chicken Club – Combo | | $7.19 |
| Sourdough Grilled Chicken Club | | $4.99 |
| Sourdough Grilled Chicken Club – Combo | | $7.19 |
| Jack's Spicy Chicken | | $4.59 |
| Jack's Spicy Chicken – Combo | | $6.79 |
| Crispy Chicken Strips | | $4.69 |
| Crispy Chicken Strips – Combo | | $6.89 |
| Chicken Nuggets | 10 Pc. | $3.09 |
| Chicken Nuggets – Combo | 10 Pc. | $5.29 |
| Chicken Fajita Pita | | $4.79 |
| Chicken Fajita Pita – Combo | | $6.99 |
| Chicken Teriyaki Bowl | | $4.69 |
| Chicken Teriyaki Bowl – Combo | | $6.89 |
| Upgrade to Medium Combo | | $0.59 |
| Upgrade to Large Combo | | $0.99 |
| Sub Curly Fries | | $0.40 |
Jack in the Box Value Menu
| | | |
| --- | --- | --- |
| 2 Tacos | | $0.99 |
| Jr. Jack | | $1.39 |
| Jumbo Jack | | $2.59 |
| Chicken Nuggets | 5 Pc. | $1.59 |
| Chicken Nuggets | 10 Pc. | $3.09 |
| Chicken Nuggets | 20 Pc. | $5.09 |
| Chicken Sandwich | | $1.29 |
| Jr. Bacon Cheeseburger | | $1.49 |
| Big Cheeseburger | | $2.49 |
| Value Drink | 16 oz. | $1.00 |
| Value Fries | | $1.00 |
| Add Cheese | 1 Slice | $0.30 |
| Add Bacon | 2 Slices | $0.50 |
| Add Jalapeños | | $0.25 |
Jack in the Box Kids Menu
The Kids Menu Includes Fries or Apple Bites with Caramel, plus a Kid's Drink
| | | |
| --- | --- | --- |
| Hamburger | | $3.29 |
| Chicken Nuggets | 5 Pc. | $3.29 |
| Cheeseburger | | $3.59 |
| Chicken Breast Strips | 2 Pc. | $3.99 |
Jack in the Box Sandwiches and Salads
| | | |
| --- | --- | --- |
| Turkey, Bacon & Cheddar Grilled Sandwich | | $4.49 |
| Turkey, Bacon & Cheddar Grilled Sandwich – Combo | | $6.69 |
| Deli Trio Grilled Sandwich | | $4.49 |
| Deli Trio Grilled Sandwich – Combo | | $6.69 |
| Chicken Club Salad | | $5.49 |
| Grilled Chicken Salad | | $5.49 |
| Southwest Chicken Salad | | $5.49 |
Jack in the Box Sides
| | | |
| --- | --- | --- |
| French Fries | Small | $1.89 |
| French Fries | Medium | $2.09 |
| French Fries | Large | $2.29 |
| Seasoned Curly Fries | Small | $1.99 |
| Seasoned Curly Fries | Medium | $2.29 |
| Seasoned Curly Fries | Large | $2.49 |
| Monster Taco | | $1.29 |
| Nacho Monster Taco | | $1.69 |
| Bacon Ranch Monster Taco | | $1.69 |
| Bacon Cheddar Potato Wedges | | $3.09 |
| Onion Rings | | $2.29 |
| Egg Rolls | 1 Pc. | $1.79 |
| Egg Rolls | 3 Pc. | $4.09 |
| Stuffed Jalapeños | 3 Pc. | $2.19 |
| Stuffed Jalapeños | 7 Pc. | $4.19 |
| Side Salad | | $1.69 |
| Spicy Nacho Curly Fries (Limited Time) | | $2.49 |
Jack in the Box Desserts
| | | |
| --- | --- | --- |
| Mini Churros | 5 Pc. | $1.00 |
| Mini Churros | 10 Pc. | $1.99 |
| Mini Cookies | 5 Pc. | $1.00 |
| Cheesecake | | $1.59 |
| Chocolate Overload Cake | | $1.79 |
Jack in the Box Drinks Menu
| | | |
| --- | --- | --- |
| Oreo Cookie Shake | Regular | $2.79 |
| Oreo Cookie Shake | Large | $3.29 |
| Shake (Chocolate, Vanilla, or Strawberry) | Regular | $2.79 |
| Shake (Chocolate, Vanilla, or Strawberry) | Large | $3.29 |
| Salted Caramel Shake (Limited Time) | Regular | $2.79 |
| Salted Caramel Shake (Limited Time) | Large | $3.29 |
| Smoothies (Strawberry Banana, Mango, or Strawberry) | Regular | $2.99 |
| Smoothies (Strawberry Banana, Mango, or Strawberry) | Large | $3.99 |
| Premium Roast Coffee – Hot | Regular | $1.49 |
| Premium Roast Coffee – Hot | Large | $1.69 |
| Premium Roast Coffee Iced (Original, Mocha, Caramel or Hazelnut) | Regular | $1.79 |
| Premium Roast Coffee Iced (Original, Mocha, Caramel or Hazelnut) | Large | $2.69 |
| Flavored Iced Tea | 24 oz. | $1.89 |
| Bottled Water | | $1.29 |
| Orange Juice | | $1.69 |
| Milk | | $1.29 |
| Fresh Brewed Iced Tea | Small | $1.69 |
| Fresh Brewed Iced Tea | Medium | $1.89 |
| Fresh Brewed Iced Tea | Large | $2.09 |
| Fountain Drink | Small | $1.69 |
| Fountain Drink | Medium | $1.89 |
| Fountain Drink | Large | $2.09 |
Jack's Munchie Meals
Choose between: Spicy Nacho Chicken Sandwich Munchie Meal, Chick-n-Tater Melt Munchie Meal, Hella-Peno Burger Munchie Meal or Stacked Grilled Cheese Burger Munchie Meal
| | | |
| --- | --- | --- |
| Regular Hours 9PM-5AM | | $6.00 |
| Outside of Late Night Hours | | $8.00 |
Jack in the Box Breakfast Menu – Served All Day
Jack in the Box Breakfast Combos Include Regular Coffee & Hash Browns
| | | |
| --- | --- | --- |
| Loaded Breakfast Sandwich | | $3.69 |
| Loaded Breakfast Sandwich – Combo | | $5.09 |
| Jumbo Platter | | $3.49 |
| Jumbo Platter with Regular Coffee | | $4.49 |
| Grilled Breakfast Sandwich | | $3.69 |
| Grilled Breakfast Sandwich – Combo | | $5.09 |
| Supreme Croissant | | $3.29 |
| Supreme Croissant – Combo | | $4.69 |
| Sausage Croissant | | $3.29 |
| Sausage Croissant – Combo | | $4.69 |
| Ultimate Breakfast | | $3.49 |
| Ultimate Breakfast – Combo | | $4.89 |
| Extreme Sausage | | $3.29 |
| Extreme Sausage – Combo | | $4.69 |
| Grande Sausage Burrito | | $3.39 |
| Grande Sausage Burrito – Combo | | $4.79 |
| Meat Lovers Burrito | | $3.39 |
| Meat Lovers Burrito – Combo | | $4.79 |
| Sausage, Egg & Cheese Biscuit | | $2.99 |
| Sausage, Egg & Cheese Biscuit – Combo | | $4.29 |
| Breakfast Jack | | $1.59 |
| Breakfast Jack – Combo | | $3.79 |
| Mini Pancakes | 8 Pc. | $1.00 |
| Steak & Egg Burrito | | $3.99 |
| Steak & Egg Burrito – Combo | | $5.09 |
| Jalapeño Bacon Burrito (Limited Time) | | $3.69 |
| Jalapeño Bacon Burrito – Combo (Limited Time) | | $5.09 |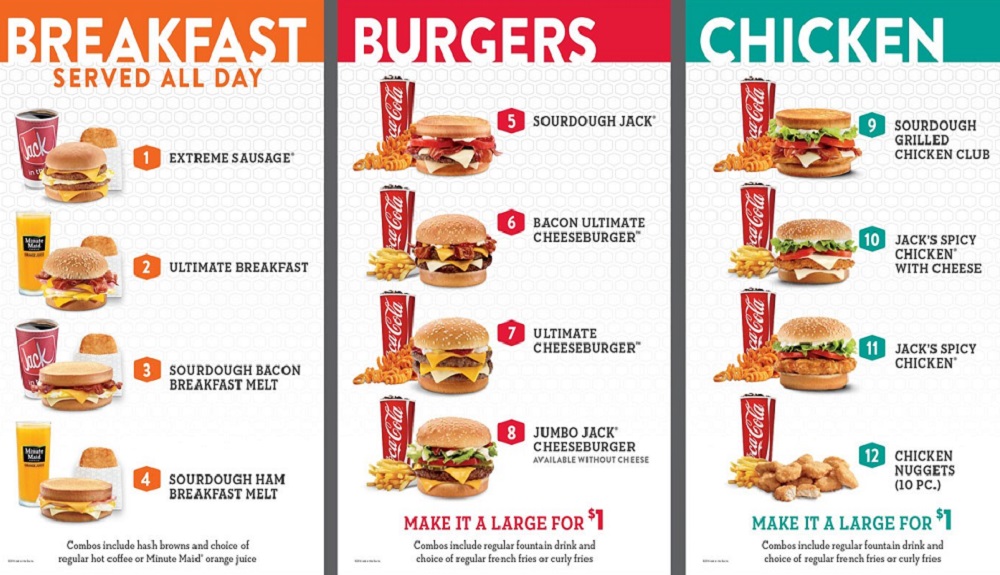 Jack in the Box Munchie Meals Menu.
"For when its so late, it might be early".
The late-night menu are offered between the hours of nine pm.and 5 am. and contain more than 1500 calories.
Hella-Peno Burger Munchie Meal – Price: 6$

Loaded Nuggets Munchie Meal – Price: 6$

Chick-n-tater Melt Munchie Meal.

 

– Price: 6$

Stacked Grilled Cheese Burger Munchie Meal – Price: 6$
What is Jack in the Box?
Jack in the Box is an American fast-food and burger restaurant that was established by the company in San Diego, California. The chain has more than 2200 restaurants, with the majority of them located in the West Coast of the United States (California and Washington State). The company was started Robert O. Peterson. Robert O. Peterson.
The Jack in the Box Menu Specials.
The menu stands out from other menus of burger chains such as those at McDonalds Menu and Burger King Menu by combining the burger menu with the "Texmex" menu of tacos eggsrolls, burritos hot jalapenos that are deep-fried. The dessert menu also features Churros.
Menu items for the season include Philly cheesesteaks as well as pumpkin pie shakes. Oreo mint shakes, and eggnog shakes for the Christmas and Thanksgiving celebrations. In other places local dishes are usually included on the menu.
The Jack in the Box menu can also be found at www.jackinthebox.com/food, but that menu does not include prices. The homepage of the company is located on this website.
For coupon and deal information you can check out the comment section in the section below.
-Jack in the Box Menu & Jack in the Box Prices –
We invite you to rate this restaurant on 1-to-5 stars.
We love comments and reviews!
You might also like these pages: